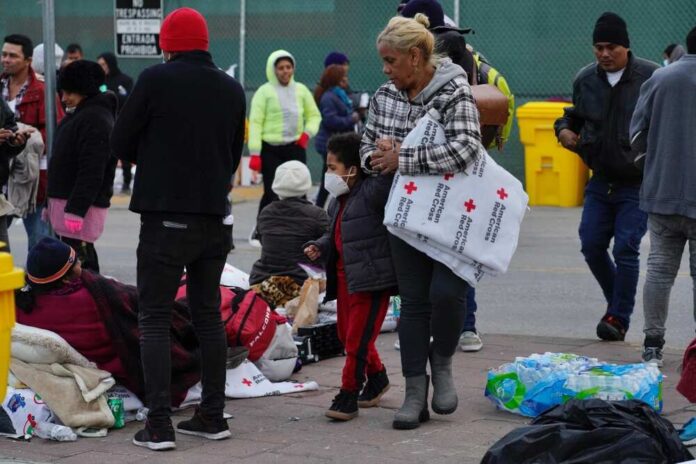 The Department of Health and Human Services (HHS) has been found to have repeatedly failed to conduct the necessary background checks on workers at emergency holding centers for unaccompanied migrant children. The disturbing revelation came to light in an internal watchdog report released on Thursday.
The surge of unaccompanied children crossing the US-Mexico border in 2021 prompted authorities to set up emergency intake sites. In addition, with the expiration of pandemic-related asylum restrictions, the number of migrant children arriving is expected to increase. The report's findings raise concerns about authorities' preparedness for the impending influx.
According to the inspector general's report, out of a sampled group, only 29 of 200 workers had background checks for child neglect or related offenses, with 20 not completed on time. Additionally, 174 workers did not have FBI fingerprint background checks, and 42 workers had not been checked against the Justice Department's tier offender registry.
Background checks are a critical component of the screening process for employees who work with children. HHS-OIG's audit determines whether required background checks were conducted for employees in certain facilities that serve unaccompanied children: https://t.co/5CtegJ5kiI pic.twitter.com/zzAdET56ps

— OIG at HHS (@OIGatHHS) May 4, 2023
The issue was widespread, affecting 10 of the 14 contracted emergency intake sites, including San Diego, Long Beach and Texas locations. Even a department-run overflow site in Carrizo Springs, Texas, often failed to perform required checks.
Despite the HHS expanding its holding capacity to 13,500 beds by spring 2021, the department was unprepared for the increased flow of migrants that occurred shortly after President Joe Biden took office. As a result, the HHS's Office of Refugee Resettlement has been urged to address these shortcomings to ensure the safety of children and prevent similar issues in the future.
The report also highlighted the negative impact on law enforcement personnel who feel overworked and unable to perform their primary duties due to the growing workload since 2019. The Department of Homeland Security's internal watchdog found border flows, including illegal crossings and legal trade and travel, to be "unsustainable" without additional staffing. Current efforts to address the workload, including temporary transfers and overtime, have been deemed insufficient.
In response to the inspector general, January Contreras, assistant secretary for children and families, acknowledged that the HHS faced "one of the most challenging periods" in its history of caring for migrant children during the 2021 surge amid the pandemic. Contreras stated that the department received over 122,000 children in the 2021 budget year, compared to about 19,000 the previous year.
The Border Patrol held children for extended periods in 2021 until the HHS was prepared to take custody. At one point, more than 4,000 people, mainly unaccompanied children, were held at a facility in Donna, Texas, designed for 250 with COVID-19 restrictions.
Contreras also noted that the HHS is working to find more efficient ways to reduce barriers to the timeliness of background check adjudication and improve processes. Ensuring the safety and well-being of these vulnerable children must be a priority, and the HHS must take swift action to rectify these shortcomings.